CORPORATE SOCIAL RESPONSIBILITY
Cow Brand Soap's Corporate Social Responsibility (CSR)
In order to be a good corporate citizen, Cow Brand Soap devotes ceaseless effort to live together harmoniously and honestly with the society and employees.
Cow Brand Soap, that makes quality the first priority as a manufacturer specialized in skin-cleansing products, provides products for beauty, cleanliness and health, and ensures fairness and transparency in the corporate activities.
The key elements of CSR are "environment conservation", "customer satisfaction", "social contribution and compliance" and "employee satisfaction".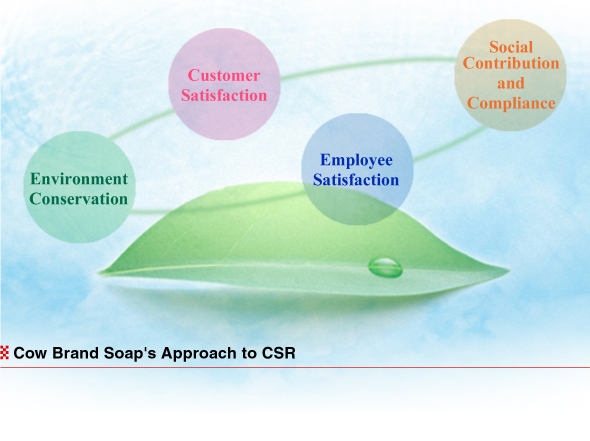 Environment Conservation
Our attitude toward the environment

There is a camphor tree positioned roughly in the center of our factory that was planted at the factory completion in 1963 and named "Tree of MINORI". In Japanese, "MINORI" is a word having multiple meanings; fruitful, rewarding and productive. The tree was planted in the hope of growing rich at the environment-friendly factory and is now a symbol of our environmental consciousness.

We have implemented environmental conservation activities, as the "Tree of MINORI" has grown, from various angles such as efficient use of resources, energy savings and reduction of industrial waste, not to mention greening of our factory.

Cow Brand Soap's activities on environment conservation

Cow Brand Soap is promoting the following activities

Energy and resource savings by a summer dress code and saving electricity
Recycling of containers and packaging materials
Using Business cards and envelops made from the reeds at Lake Biwa
Customer Satisfaction
In order to attain the highest levels of satisfaction from consumers and corporate customers, Cow Brand Soap places quality the first priority and also makes response to customer needs.
As a manufacturer specialized in skin-cleansing products, we focus on product quality and safety above all others, for instance, using biodegradable surfactants in view of water pollution.
Our Customer Consultation Service Office directly receives a wide variety of opinions and inquiries from customers who use our products. We utilize the feedbacks from our customers for new product development and product improvement.
Social Contribution and Compliance
Cow Brand Soap has made contributions to school equipment, overseas aid and relief activities for disaster-stricken areas etc. through joining the Bellmark Campaign conducted by a school subsidies financial group since 1961.
Cow Brand Soap places the highest priority not only on securing compliances but also enhancing management transparency and ensuring fairness.
Employee Satisfaction
Cow Brand Soap considers it very important to work steadily with employees in good faith. It is impossible to implement CSR without employee's satisfaction.
Cow Brand Soap respects employee's individuality and motivation, and creates a health-and-safety-conscious work environment.